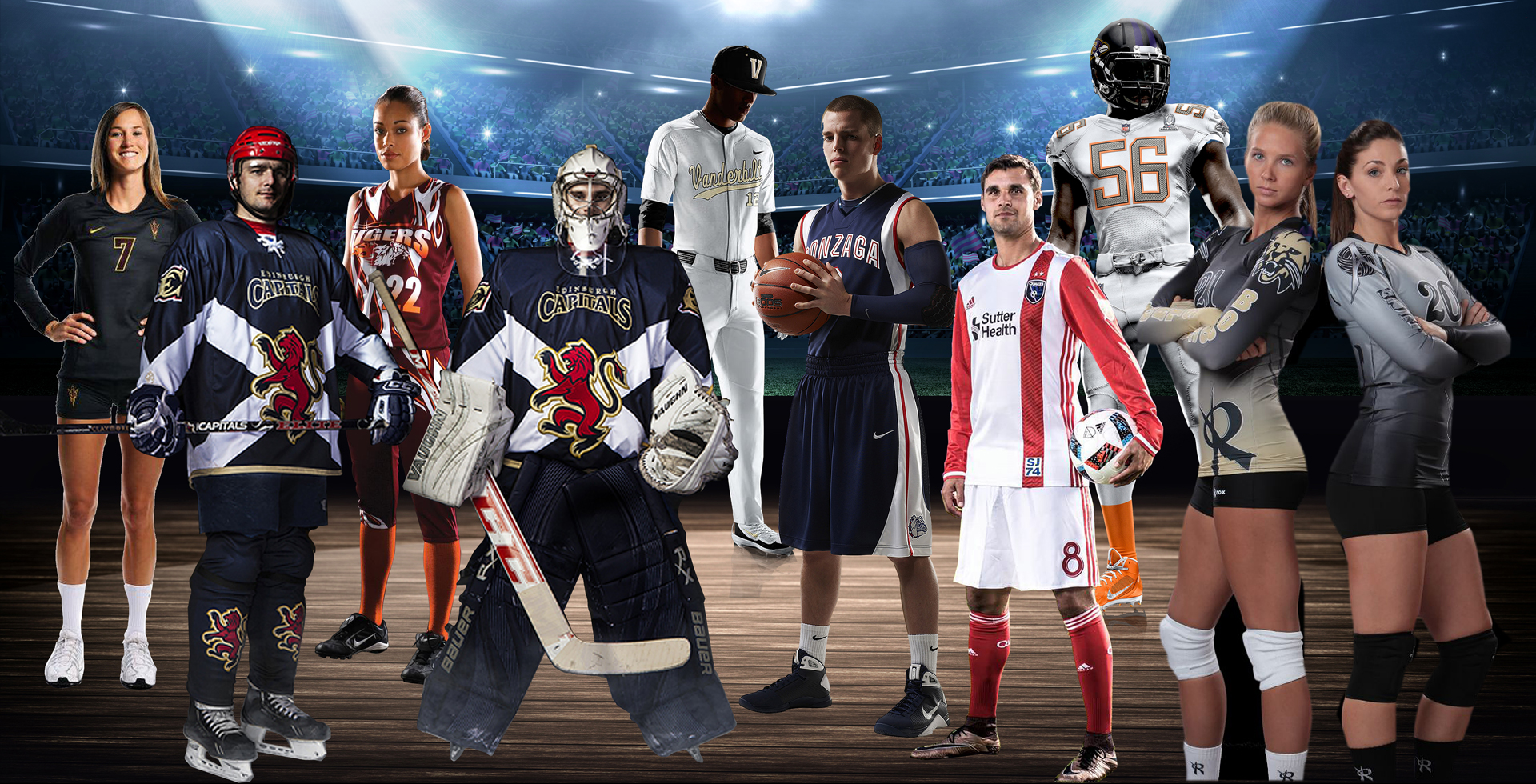 WELCOME TO ATHLIMA APPAREL!
ALL ATHLIMA BRAND APPAREL IS MANUFACTURED LOCALLY AT OUR STORE HERE IN CALGARY, AB

DESIGN SERVICES
Have a logo and an idea and need help to put it together? Athlima Apparel's skilled designers are ready & willing to work with you, and create that perfect custom design that fits your teams vision and style. Inquire today!
What is Dye Sublimation?
Dye-sublimation printers allow you to print photo-lab-quality pictures on performance apparel. Dye sublimation printing is a technique that uses heat sensitive inks, these inks turn into gas under the influence of heat and combine with a 100% polyester medium. Since longevity is something we all want from our performance apparel, it's also important to know that because dyes sublimate into the fabric instead of  just being applied onto its surface, dye sublimation lasts longer than conventional performance apparel, it doesn't fade or crack.
Aside from custom sublimated Athlima Apparel, we offer many other brands that are carried in stock. We can decorate in stock apparel using any of the following methods; sublimation, digital print, vinyl transfer, screen print, sew on twill and embroidery.
What is Embroidery?
Embroidery, art of decorating material, primarily textile fabric, by means of a needle and thread. It is ideal for hats, bags, track suit decorating, sports apparel logos and sew on twill numbers and name bars.

What is Screen Printing?
Screen Printing, which is also known as Silk Screening, is a method of printing graphics on a t-shirt using thick inks that lay on top of the shirt rather than soaking into the  shirt. We use the same process to decorate sports apparel, bags, jackets and more. It is very durable and most cost effective for large quantity orders.

What is Digital Print/Heat Transfer?
Vinyl Heat transfer/Digital Print, or HTV for short, is a specialty vinyl polymer that can be used on certain fabrics and materials to create designs and promotional products. It comes in a roll or sheet form with an adhesive backing so it can be cut, weeded, and placed on a substrate for heat application. Can be used on garment decorating such as logos bags, jersey numbers and name bars.
Let us be your one-stop shop for all your custom team and athletic apparel needs!
Design services
Design services – have a logo and an idea and need help to put it together? Athlima Apparels skilled designers are ready and willing to work with you to create that perfect custom design that fits your teams vision and style. Inquire today!
Logos and art should be in vector format which allows us to increase and decrease any art or logo without loss of detail.
Logos and art that are .jpeg, .tiff, bmp etc will result in additional charges as they need to be altered and in some cases redrawn.
Color matching
Color matching – dye color may vary order to order. Color variation of  5% – 10% is acceptable. Color may have minimal change due to material/supplies change, ink manufacture and even change in weather. For best color results it is ideal to order your apparel together.
Quote instructions
Select sport

Select jersey brand ( Athlima, Athletic Knit, Kobe, Kamazu )

Tell us your jersey style

Choose your logos and number methods (vinyl, digital print, sublimated twill, embroidery, screen print)

Lastly, tell us quantity.
How to order
Provide us with team info designs and artwork in vector

Custom jersey designed for review and approval

Provide sizes and numbers using Roster Form at bottom of main page


Confirm order for production